Giving books away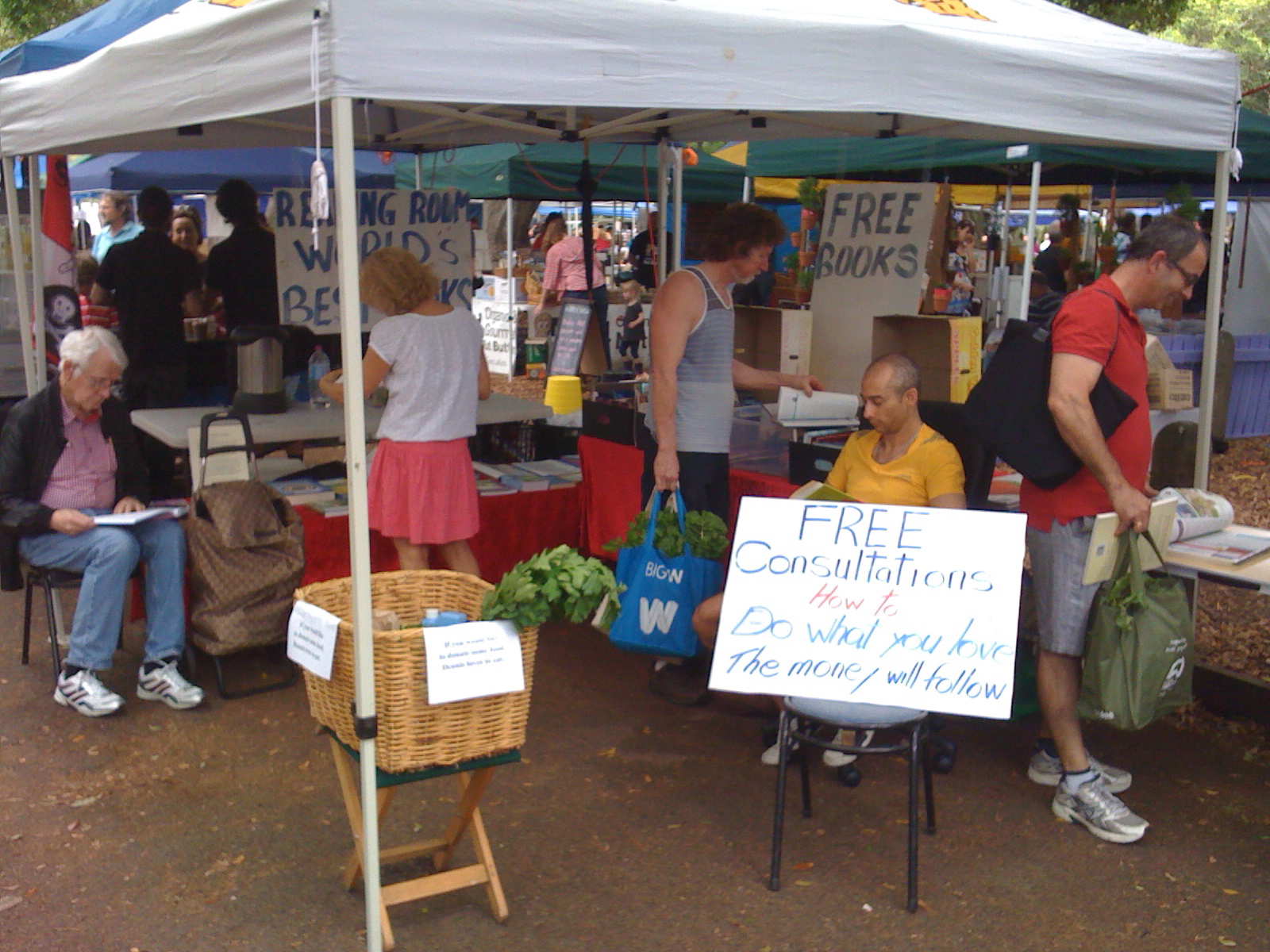 Book Giveaway on a Sunday morning at Northey St., Organic Market in Brisbane, Australia
In 2008, the day following the best day of my life when I gave the contents of my home away, I had a couple of boxes of books left over from my huge self-help library. Taking them to Brisbane's Organic market, I stood by a path, saying, "Free Books".
Thus began my book giveaway adventure. When I have a car, each Sunday morning, 6am to noon, I set up a gazebo kindly donated by the manufacturer. In following years, at the Gold Coast Organic Market, I had three tables and chairs to give away as-new, positive books, audio CD's and jigsaw puzzles. For children, I had 'free pets' (soft toys), educational games, books and DVD's. Another table has 25 of 'The World's Best Books'. These are special books to look at, not take. I also leave positive magazines on the 'cafe' tables for people to read or take while they're having breakfast.
I get most things for free; the stand, the space, the soft toys and books (sometimes I buy some great books or 'free pets' cheaply). I had three rocking horses (different sizes), a slippery dip, a crawl through and a castle for children to enjoy.
The Gold Coast has a great organic market with lovely people and healthy food, as does Brisbane's Northey Street Market.
When I can, I give educational books to small schools and hundreds of brand new books as presents in 'Spirit of Christmas' shops. I enjoy giving hardcover 'coffee table' picture books to Nursing Home libraries. I gave my superb collection of timber and wood-working books to a Brisbane 'Men's Shed'.
How to run a book giveaway
1. Get a couple of friends involved.
2. Pick a task each of you enjoy doing.
3. Select a suitable market. I like organic markets.
4. So it's easier to get help, write an information sheet to show people what you do. Put some at your stall. Include a list of the types of positive books etc., that people can bring in for you to give away. Tell them they must be in excellent condition.
5. Visit the market organiser and show them your sheet. If you wish, show them this webpage and say you'd like to do the same. Ask them for free space for your stand for a week or two so you can both see how things go. Once that goes well, ask them to let you come regularly for free. Be reliable and go every week. If you're away, get someone to do it. Please don't sell or charge anyone for anything. I never do. Have a box for contributions (for books, petrol etc.) if you wish but say donations are entirely voluntary.
6. Get a gazebo, tables, table covers, folding chairs and signs saying; 'FREE BOOKS' and 'FREE PETS' etc. Find out how to get the things you need for free under the 'Free things' section on this site.
7. All the books/ magazines/ jigsaws/ soft toys etc. that I offer are in top condition. I clean book covers with eucalyptus oil and polish them with a paper towel. All the books are positive/uplifting. The books range from hundreds of useful skills and how to books, to anything with useful knowledge or information; whether travel/adventure, positive biographies, religion, law, art, philosophy, photography, animals, sciences, etc. I don't offer crime, politics, war, romance, westerns or novels – excepting children's novels and great literary classics.
8. Get to the market early and have everything set up for their start time. Please clean up before you leave.
9. If you have any questions, please contact me via 'Contact Us'.
10. Have a fabulous time helping people and recirculating real books!
Thousands of free audio and eBooks are available through: http://www.techsupportalert.com/best-free-ebooks-online.htm and http://www.freebookcentre.net
If you wish, you can always print eBooks to read as hardcopy.